02/02/2018
Ribbon Cutting Ceremony at the New Community Resource Center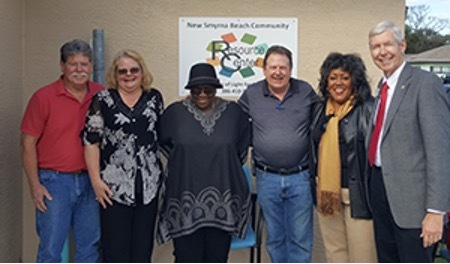 From left to right: Randy Hartman, City Commissioner - Zone 4, Teresa Pope, NSBHA Executive Director, Fannie Mae Hudson, Jim Hathaway, Mayor, and Donna Banks and Tony Otte, both with Community Redevelopment for the City of New Smyrna Beach attend the ribbon cutting for the new community resource center. Photo Credit: Kathleen Westerfield
On February 2nd, 2018, a ribbon-cutting ceremony was held to celebrate the opening of the newly-renovated Community Resource Center in New Smyrna Beach. New Smyrna Beach city officials, including Mayor Jim Hathaway, Zone 4 Commissioner Randy Hartman, Donna Banks, and Tony Otte with Community Redevelopment were in attendance to celebrate, as well as Volusia County officials, staff from the New Smyrna Beach Housing Authority, and many of our tenants. The center has replaced the Housing Authority's Resident Council building (formerly the police substation) and is located at 600 Greenlawn St. in New Smyrna.
Open to all, not just Housing Authority tenants, we are hoping that the center will be a source of help and hope for everyone, particularly in the West side area. By moving the board meetings for the Housing Authority and the Resident Council activities there, we are hoping to reach more of our tenants, and broaden the scope of assistance we provide to the whole community. In a speech at the ribbon-cutting ceremony, New Smyrna Beach Housing Authority Executive Director Teresa Pope said, "A beacon, according to Webster's Dictionary, is someone or something that guides or gives hope to others. We will be that beacon for our community."
---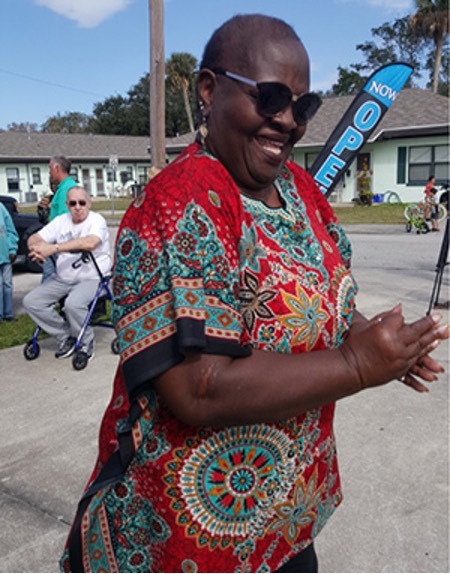 Resident Council President Yvonne Jefferson smiles at the ribbon-cutting ceremony.
Ms. Loriann Morris (better known as Ann), a 20-year veteran of the Daytona Beach Police Department, will be providing a friendly face for our clients at the center, as well as doing scheduling, assisting clients with food stamps, and assisting with the Homeless Management information system.
Additionally, the Human Services Ministry for Our Lady Star of the Sea will also be coming to the center to provide services such as rent assistance and free laundry detergent and bleach, and the Nazarene church in New Smyrna Beach will be providing 20 food bags per week for children and 20 food bags per month for seniors (over 62), which will be distributed on a first-come, first-served basis.
Our Resident Council will be holding their meetings at the center, as well as providing free movies for kids on Friday nights. The Friends of the New Smyrna Beach library will be holding their reading program for kids there from 4 - 5 p.m. every Wednesday, and we encourage all of our tenants to bring their children to both programs.
---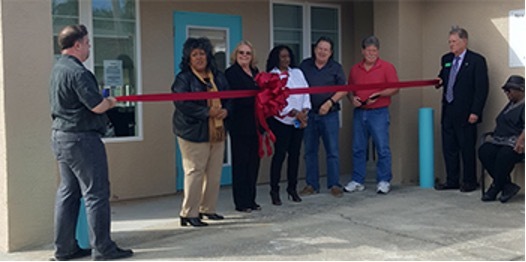 Donna Banks, Teresa Pope, Loriann Morris, Mayor Jim Hathaway, and Randy Hartman prepare to cut the ribbon at the new Community Resource Center.
The center will be open Monday - Friday (8:30 a.m. - 2 p.m. on Monday and Friday and 10 a.m. - 4 p.m. Tuesday, Wednesday, and Thursday), however various services may only be available on certain days. Please be sure to check the calendar or call Ann to make sure you know when the various agencies will be at the center.