07/03/2019
Ribbon Cut on New Affordable Housing Duplex in New Smyrna Beach
Vice Mayor Randy Hartman, City Commissioner Michael Kolody, Volusia County Councilwoman Deb Denys, and Acting City Manager Khalid Resheidat were all on hand for a ribbon-cutting ceremony hosted by NSB Housing Authority Executive Director Teresa Pope on Wednesday, July 3 to commemorate the completion of a new affordable housing duplex on the 200 block of Dimmick Street in New Smyrna Beach.
Vice Mayor Hartman gave remarks before the ceremony about affordable housing in general and commended the hard work of all involved stakeholders.
"Here in New Smyrna Beach, we're proudly moving in the right direction through partnerships with organizations like the NSB Housing Authority," said Vice Mayor Hartman.
The event also doubled as move-in day for Willie McCoy, the duplex's first tenant who officially received a set of house keys from Mrs. Pope during her remarks. A US Army Special Forces combat veteran, Mr. McCoy served up to the rank of Captain and was wounded in action during the Vietnam War.
"This is what our mission is: to provide decent, safe, and affordable housing to our community. We are proud to be able to offer this unit to a veteran in time for this Independence Day," said Mrs. Pope.
The cost of the debt-free project totaled $330,000 and was funded by contributions from Volusia County's Shared Housing Initiatives Program, the NSB Community Redevelopment Agency, and the NSB Development Corporation.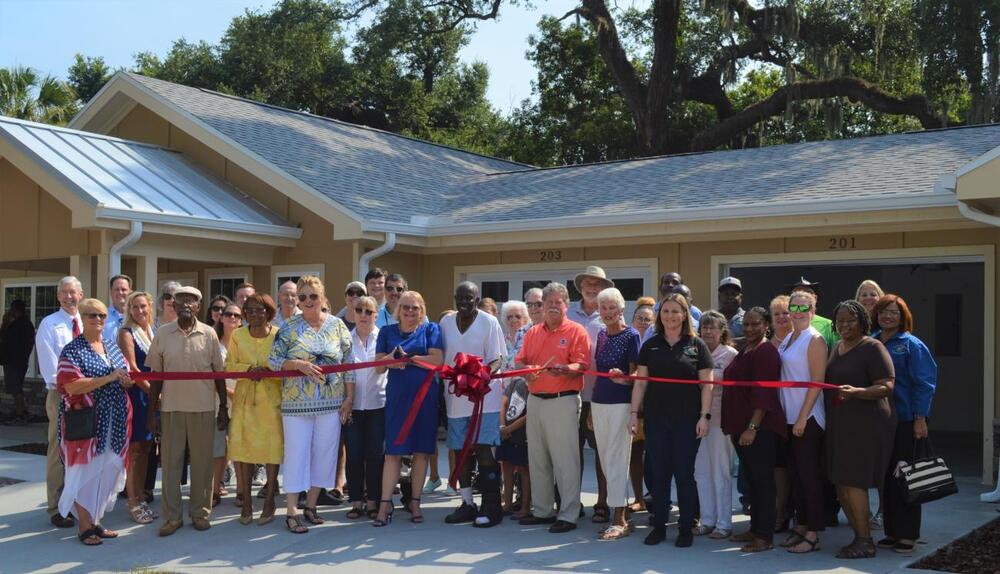 Photo: Ribbon-cutting ceremony for new affordable housing duplex located on Dimmick Street in New Smyrna Beach (City of New Smyrna Beach/Phillip Veski)
---
Article by:
City of New Smyrna Beach
Executive Office
Khalid Resheidat
Interim City Manager
Media contact: Phillip Veski
Public Information Officer
Email Phillip