10/19/2022
Hurricane Ian Update: FEMA Assistance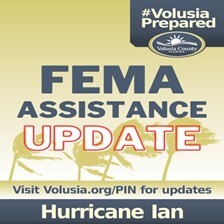 Recovery efforts continue across Volusia County. Here's the latest information from Volusia County's Emergency Operations Center.

FEMA assistance

More than 15,000 Volusia County residents have already applied for FEMA assistance.

To apply for assistance and get answers to your questions, call FEMA at 800.621.3362. Video relay service and 711 are available at 800.621.3362. Online registration is available at www.DisasterAssistance.gov. Applications are available in English and Spanish.

When you call, have the following information available:
Your address with ZIP code
Condition of your damaged home
Insurance information, if available
Social Security number
Phone number where you can be contacted
Address where you can get mail or email address to receive electronic notifications
Direct deposit: Disaster assistance funds can be sent directly to your bank account. Please provide your bank account type, account number, and bank routing number.

Stay in touch with FEMA: When you apply, you will receive a FEMA registration number. Save it. You will need the number whenever you contact FEMA.